Grab the Disney Cakes & Sweets Package for just $1 shipping. You will receive the huge instruction booklet + a cookie Cutter + Stencils. Or, choose to pay $4.95 shipping and receive everything above like Evelynn.
Create these beautiful cakes:
Stop paying ridiculous prices for cakes! Make your own special cakes with this collection of molds, cutters and cake decorating equipment will help you produce professional results that will delight your friends and family.
• Packed with delicious recipes
• Easy-to-follow techniques
• FREE digital magazine edition
• Comes with specially designed baking tools to add to your Disney kit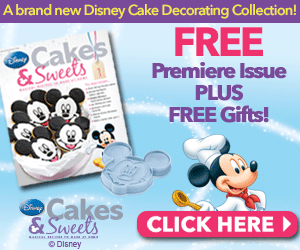 Please note – you can cancel after your first order if you do not wish to continue getting shipments and the kit is yours to keep!!
{ 0 comments }