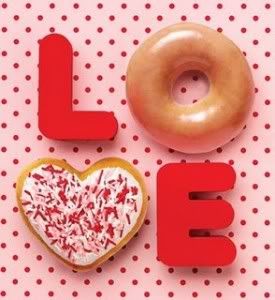 Krispy Kreme *FREE Doughnuts! These look really good.
This year, participating U.S. Krispy Kreme locations will again offer "Hot Hearts," which are Heart-shaped "Hot Now" Original Glazed® doughnuts, on Valentine's Day, Feb. 14.
To make the season of love even more memorable, Krispy Kreme is giving customers 12 free "Share the Love" Valentine's Day cards with each dozen doughnuts purchased. Each of these one-of-a-kind cards includes a sweet surprise – a coupon for one free doughnut – to share with those closest to your heart.
**So it is like buying 12 doughnuts, and getting 12 doughnuts free!!